ASX 812 Auto-loading ambulance stretcher
---
The geometrical line rewards the stability and the operations of translation and sitting. The advanced setting of the front cart gives this one-man stretcher an indisputable safety during loading and unloading maneuvers.
The 190 mm wheels can be appreciated for their capacity to absorb the asperity of concrete roads which is lightly superior then that of smaller wheels and for the agility they give ASX 812.
Moving ASX 812 is just a great feeling. Immediately evident to the eye is the handlebar and the commands block.
Yes, the new ASX 812 is a little pricy, but it knows how to win the hearts of young and not so young rescuers, thanks to its beautiful line, its details and a pleasurable maneuverability much appreciated on a latest generation stretcher.
But above all, the ASX 812 fully reflects the design, tradition and the spirit of a young manufacturing company.
---
Features
They are power assisted and can be easily managed even from the side.
It's simple even though assisted. The coating material is made of rubber which ensures an effective grip.
---
Three easily adjustable heights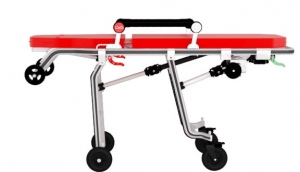 The high position characterized by stability and maneuverability.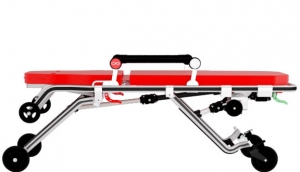 The medium position is ideal for traveling and approaching hospital beds.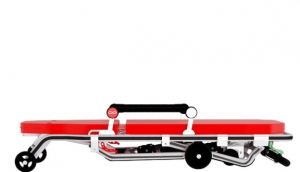 The low position – only 280 mm – is for patient load from the ground.
---

Sound
The refined sound generated by the AMOS transport systems is one of the most important characteristics. It took sophisticated solutions to lower frequencies when the noise became more troublesome. Expensive solutions available to all that only AMOS has used.

Weight
The main advantages of aluminium, in particular for the 7000 series alloys, consist of maximum lightness, tensile strength and compression. We have found the right formula.

Size
All complementary parts are essential to avoid as much as possible the excessive bulk of the transport elements both inside the ambulance or during rescue in confined spaces. Reducing by 180 mm the overall dimensions of a chair doesn't seem like much. But we are the only ones and first ones that did it.

Bumper
The Damper protection protects and dresses the ASX 812 for its whole life. But more so it reduces noise because of its elasticity and durability.
---
Technical Specifications
Efficiency in loading and unloading of the stretcher thanks to the lock system 10 G easyblok

The colour coded commands guarantee an easy and intuitive usage

Excellent transportability on all ground types thanks to the 190 mm wheels, safety thanks to the rear wheels which are equipped with an integrated brake system

Sidebars with rapid release and integrated safety

Loading and unloading maneuvers are made easy thanks to the FeatherLoad system

Nocturnal visibility due to the reflective labels

The ambulance stretcher ASX 812 comes complete with a system of patients belts

Conformity with EN1865 and EN1789 standards

3 height adjustable positions
Length
1970 mm
Width
570 mm
Height (to the mattress)
900 mm (812L)
1000 mm - (812H)
Loading carriage height
590 mm (812L)
690 mm (812H)

Sidebars height
195 mm
Sidebars lenght
620 mm
Wheels
ø200 mm
Weight
45 kg
Materials
Aluminum, PE, PVC
Loading capacity
200 kg
---