ACX 722 Patient chair
---
The movement commands have be reduced down to the bone.
Only a simple touch is needed on the frontal side handle in order to extract it. ACX 722 is comfortable and versatile for the patient thanks to the angle between the torso and the legs which is greater then 95 degrees.
A timeless design and outstanding functionality. The structure in AMOS red polycarbonate will be able to welcome with the right comfort even patients who are less patient.
A back handlebar has never been seen before because  everyone as always used two handles. This is not a discovery but it is a new and ergonomic way of transporting, you will soon see it even on the competitors' chairs. Even the "noblest" ones.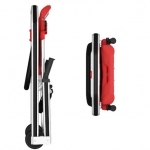 The chair in the closed position viewed laterally and from above.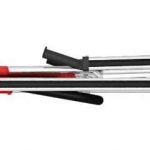 To transport the closed chair you have two generous sockets available distributed in the center.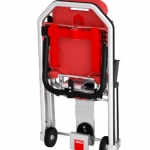 Never has a lock system been so simple, safe and effective. The interface with the ACX chairs is accurate and robust. It ensures 10 G and noise abatement. It is easily and solidly installed both on the floor and hanging on the wall.
---

Sound
The refined sound generated by the AMOS transport systems is one of the most important characteristics. It took sophisticated solutions to lower frequencies when the noise became more troublesome. Expensive solutions available to all that only AMOS has used.

Weight
The main advantages of aluminium, in particular for the 7000 series alloys, consist of maximum lightness, tensile strength and compression. We have found the right formula.

Size
All complementary parts are essential to avoid as much as possible the excessive bulk of the transport elements both inside the ambulance or during rescue in confined spaces. Reducing by 180 mm the overall dimensions of a chair doesn't seem like much. But we are the only ones and first ones that did it.

Bumper
The Damper protection protects and dresses the ACX 722 for its whole life. But more so it reduces noise because of its elasticity and durability.
---
Technical Specifications
Light and compact

Particularly robust

The bumper in santoprene protects the sides exposed to impact

Made in an alloy of special aluminium

Can be opened and closed with a pedal

Ergonomic grip for transport of the chair when closed

Seat and backrest with texture grip made in ABS

Two extendible handles with automatic locking and unlocking

Two curved rear handles to increase grip

Seat belt with reel

Ventral belts with automatic fastener

150 mm rear wheels to improve handling

In accordance with UNI-EN1865 standard

Ambulance lock system in accordance with UNI-EN1789 standard
| | |
| --- | --- |
| Width | 505 mm |
| Height | 920 mm |
| Depth opened with handles closed | 665 mm |
| Depth opened with handles opened | 1185 mm |
| Depth closed | 210 mm |
| Weight | 9.4 kg |
| Loading Capacity | 170 kg |
---